In a joyful celebration of community and civic pride, adults, kids, and even a few dogs participated in the grand opening of Harborside Fountain Park this past Saturday in Bremerton, Washington. Linking the city's civilian and naval communities, the park connects the Heritage Harbor Navy Museum and Puget Sound Waterfront. Five striking copper clad fountains, created by Wet Design, memorialize the scale and dedication of city's naval shipbuilding tradition and invite children and adults alike to play in the shallow pool and spouting water.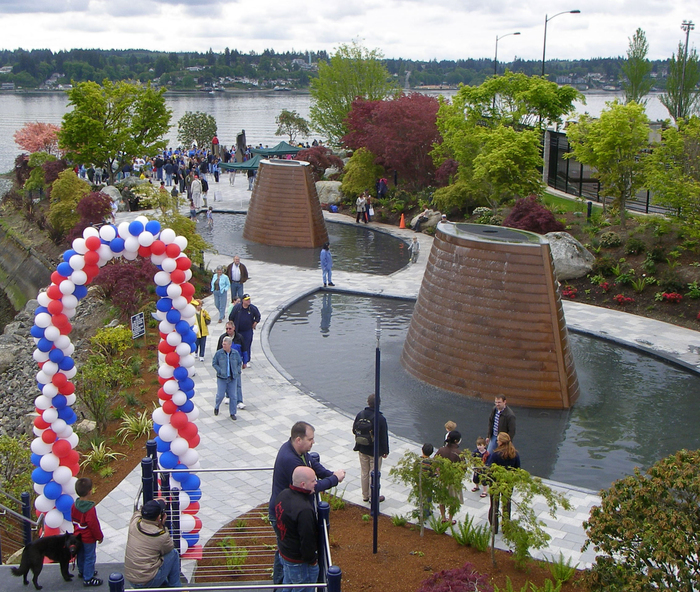 As a complement to the water features, natural stone was a key element in the design of the park. The park features huge rocks in colorful landscaping and large stone sculptures by Bremerton sculptor Will Robinson. We wanted stone that people could experience and touch; stones they could feel, lounge on and even climb over," said Robinson.
Yellow Mountain StoneWorks engineered Charcoal, Salt & Pepper, and Frosty Plum Granite into the pavers used for the extensive walkways. Keeping to an aggressive schedule, Yellow Mountain StoneWorks collaborated with the design team, general contractor, and City of Bremerton to produce natural stone pavers that not only gave the desired aesthetic and cost efficiency, but met federal requirements for public spaces.
"We are so proud to be a part of this project," said Nicole Gelpi, VP of Marketing for Yellow Mountain StoneWorks. "It's a beautiful park and a joy to see the community interact with all of the different elements."