Do you remember playing as a kid?  Or perhaps more recently watching kids play?  There is an exquisite freedom to explore, invent, question, create, problem solve, fail, try again…and it's all fun.  But as we get older, play becomes something that children do and work becomes something that adults do.  And we believe these two activities to be mutually exclusive: play is not work and work is not fun.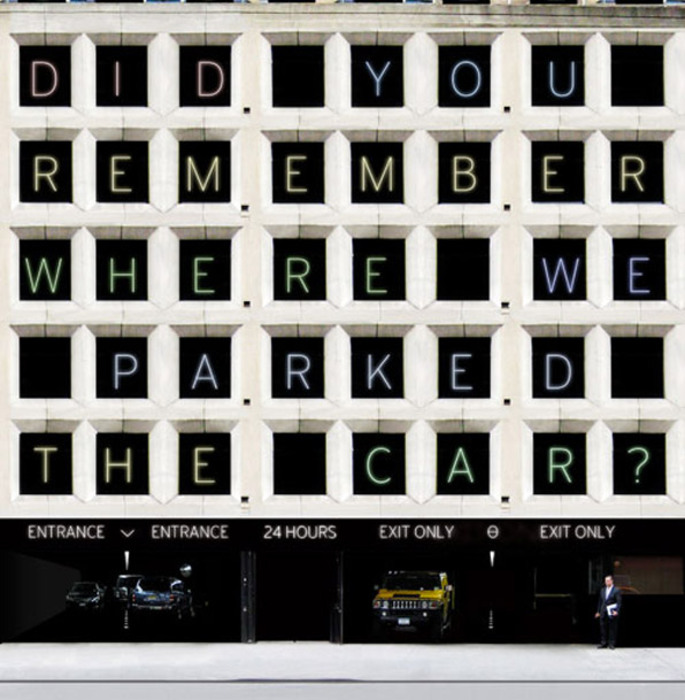 Even for those of us working in creative endeavors, where freewheeling creative energy is essential to our success and our well-being, it's difficult to give ourselves permission to play.  But think about the perpetuating energy of play.  If you're having a good time, do you want to stop?  No.  But how do we justify playing when faced with dragging timelines, ballooning budgets and indecisive clients – in essence, when we don't have answers to questions or solutions to issues?  We would put forth that this is exactly when we should play.
At a TED Talk conference themed, Serious Play, legendary graphics designer Paula Scher reviewed her career within the literal context of the theme.  During her presentation, Ms. Scher describes only four moments during her 35 year career when conditions combined to make her work serious play.  She considers these projects, including creating environmental graphics for buildings (pictured above), to be her most successful, both professionally and personally. And what they all have in common is that she felt utterly unqualified when she started, which gave her the freedom to play.
Play lets us move beyond asking what a thing is, to asking what we can do with it.  It allows us to let go of assumptions and play with possibilities.  In working with natural stone, it would be easy to only supply the standard finishes for the standard uses that designers have come to expect, and that they understand.  But where is the fun in that…for anyone?  "The most satisfying part of my day is when I can play with a designer to unlock new possibilities – something beautiful that neither of us have previously imagined, but is perfect for the project," said Nicole Gelpi VP of Marketing for Yellow Mountain StoneWorks.
The simple truth is: that no matter our age, play stimulates our imagination, arouses our curiosity, and encourages collaboration – all of which leads to discovery and creativity. Play gives us a safe context in which to take risks, get messy, find new perspectives, and innovate.  And it's fun.  A whole lot of fun.
And so we encourage you to play.  And in writing this, we remind ourselves to play.  The best design starts on a playground of infinite possibilities and a rousing game of kick the can.