There is an undeniable beauty and richness to ancient stone – infused as it is with evidence of geological time and human endeavor. And for certain architectural and landscaping projects, painting with this resonant palette deepens the resulting aesthetic. But stone that is both centuries-old and available for contemporary projects is rare. And for consistency across large scale projects, finding enough reclaimed ancient stone with the same features is even rarer. So we asked ourselves, how can we create the depth and character of ancient stone on the surfaces of newly quarried stone?  In essence: how do we conjure age?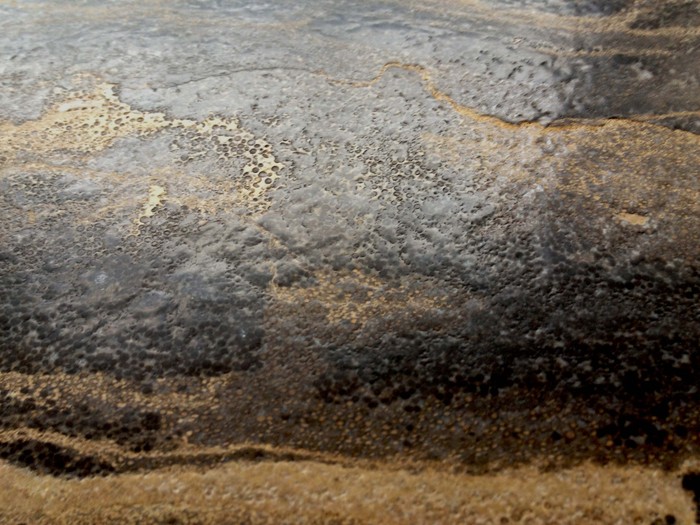 We started, as we often do, by experimenting. Starting with granites, we played with different combinations and manipulations of hand-tooled finishes and surface treatments until we achieved the same rich, weathered patina and soft feel that is accomplished by centuries of exposure. The result was not a specific solution but rather the ability to create a flexible palette of antique finishes that move between a subtle and dramatic aesthetic.
This led us to explore "aging" limestones. Chinese limestones are unique and provocative, with saturated colors, lots of fossilization, and interesting sedimentary elements. Like granites, limestones have the density and strength to take percussive hand finishes, but are soft enough to allow surface treatments to organically reveal a complex appearance and inviting texture.
Currently Yellow Mountain StoneWorks antiqued limestones can be found in homes from Hawaii to the Hamptons. Because of its soft, nubby texture, in many cases antiqued limestone is being used for interior flooring and exterior paving.  It's also an elegant, effective solution on walls, and for bathroom sinks, treads and risers.
"It's been exciting to expose designers and architects to the infinite possibilities with antique finishes," says Nicole Gelpi, Yellow Mountain StoneWorks Owner and Director of Marketing.  "By using different tools and treatments, or creating unique combinations of techniques, we can deliver customized finishes exclusive to a designer and/or a particular project."