The waterjet finish can be applied to our full range of Yellow Mountain granites. The most popular choices for exterior paving, cladding, wall caps and water features include Preto Carvaõ Basalt, Olive Black Granite, Dark Charcoal Grey Granite, Artesian Green Granite, Butterfly Blue Granite and Pepper Brown Granite.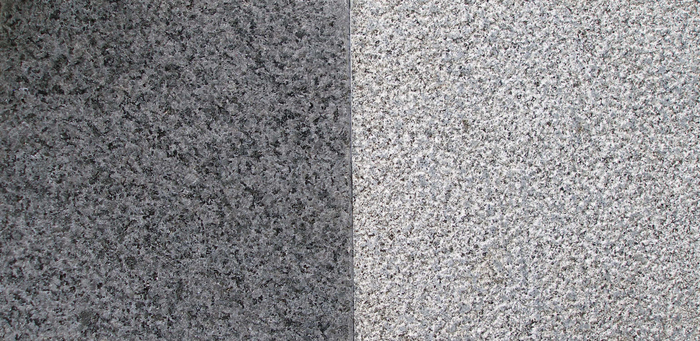 Both the color and character of granite are enhanced by a waterjet finish, whereas percussive finishes (honed, adzed or bush hammer) tend to fracture the crystals or whiten the stone. Additionally, this texture results in an ideal coefficient of friction rating for pedestrian surfaces.
The waterjet (or "hydro") finish is created by focusing an extremely high-pressure jet of water across the face of the stone. This erodes the surface, breaking crystals and opening the pores of the stone. The resulting texture is similar to a flamed finish, although not as dramatic and less destructive to the stone. The waterjet finish is not successful on stones other than granites.
One of our more dramatic projects that incorporates the waterjet finish is Myriad Gardens, a sizable botanical garden in Oklahoma City, that includes five large water features.