Throughout 2010, Yellow Mountain StoneWorks is co-sponsoring the tenth birthday celebration of Lan Su Chinese Garden in Portland, the most authentic Chinese garden outside China.
Collaborating on the garden [July 1999 – September 2000] awakened John Williams and Erik Nelson to the wonders of stone as a landscape and building material, and to the elegance and affordability of Chinese stone craft.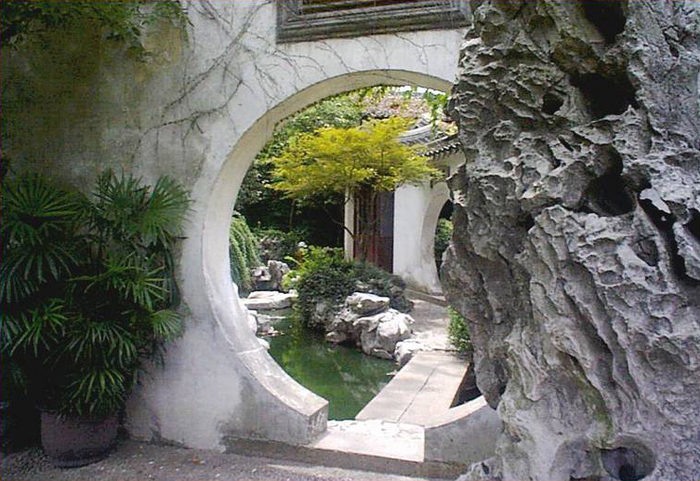 Yellow Mountain StoneWorks was born out of that collaboration. Even today, Yellow Mountain StoneWorks relies on the intercontinental network of relationships Nelson and Williams established while working as senior project managers for the award-winning garden.
Both men came away from that project impressed by what "collaboration among strangers with a common artistic goal" can achieve. That's the principle that guides them and Yellow Mountain StoneWorks partner Nicole Gelpi.
That passion helped both their company and the garden flourish over the past decade. "We have gone through the gestation of helping partners bring Chinese materials and finishes into contemporary Western architecture and landscapes. We're at a point now," said Williams, "where we are able to demonstrate some of our own compositions of materials and finishes that are very captivating – different from what you'll find most stone suppliers doing."
The highlight of Yellow Mountain StoneWorks' sponsorship is a series of events in September, the garden's birthday month, including:
• Mooncakes & Pomegranates dinner Sept. 1 featuring live music and food from 14 Portland restaurants
• A week of Chinese games in the garden, with birthday cake served at 3pm every day Sept. 13-17
• An Anniversary Gala and fundraising dinner at the Portland Art Museum Sept. 16
The garden demonstrates the remarkable fluidity of stone as a landscape and building material. Lan Su is a creative wonder — a powerfully inspiring experience based on a 2,000-year-old Chinese tradition that melds art, architecture, design and nature into perfect harmony. The Ming Dynasty-style garden features 14 pavilions and bridges, intricate paving patterns, Taihu Rock, Bamboo Shoot Rock, and a lotus-covered lake. Lan Su is a window into Chinese culture, history and way of thinking.