The work of noted Northwest artist Perri Lynch examines the relationship between human perception and sense of place. Drawn to landmarks, issues of navigation, intuition, and physical proximity are key components of these investigations.  This made Lynch the perfect choice to develop a piece public art that would honor and protect the Sand Point Calibration Baseline that runs through Seattle's Magnuson Park.
The line itself is entirely spatial, invisible but for small, periodic bronze disks embedded in the ground. Public and private surveyors use the line to verify and calibrate electronic distance-measurement equipment, which aids everything from construction to law enforcement to transportation. The accuracy of the Sand Point line is said to be within half a millimeter.
Lynch was enticed by working with this unseen, mostly unknown landmark that the vast majority of people don't even know exists, let alone holds importance.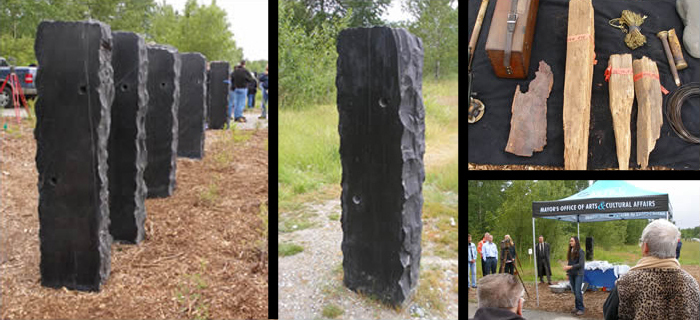 "The baseline is a humble bit of infrastructure that brings definition to our world, without most of us ever knowing it's there," Lynch says. "A 10-foot-wide, kilometer-long swath cuts straight through Magnuson Park from south to north, yet goes unnoticed by thousands of people every day. Isn't that amazing? With the artwork now in place, my hope is that the presence of the baseline will register with park users, be revered as something special, and augment the overall park experience."
On June 7, 2009 the Office of Arts & Cultural Affairs in partnership with Seattle Public Utilities, dedicated Straight Shot, a procession of 12 standing Ink Jade Limestone™ monoliths that cover a one kilometer course running parallel to Seattle's original survey calibration baseline.
The stones are perfectly aligned to the baseline. Two circular holes drilled through each stone invite visitors to peer through, creating a framed perspective of the surrounding wetlands and shoreline. The sight line offers a straight shot, thus the artwork's title. Sighting through the stones, the viewer has the experience of making a targeted observation in the landscape, adopting the stance of a surveyor calibrating his or her instruments.
For Yellow Mountain StoneWorks, this project was the ideal opportunity to illustrate the fluidity of natural stone. During fabrication, our masons allowed the uniqueness of each piece to emerge from the quarry block bringing to bear a skill that is thousands of years old. Through the use of digital photography during production, Yellow Mountain StoneWorks made it possible for the artist to be actively involved throughout the fabrication process. Working with Lynch allowed us to do what we do best — which is to leverage old-world stone craftsmanship to bring a designer's concept to life and make the whole process transparent.
Learn more about the background of the project and the installation of the monoliths on Perri Lynch's blog: sandpointbaseline.blogspot.com