Intrinsic variability is what makes natural stone both beautiful and challenging. Limestones in particular can feature an array of desirable characteristics, such as veining, fossils, and color movement, yet these elements can vary in frequency, size and range within the same quarried block. Left uncommunicated and unresolved, the stone can fail to meet client expectations, alter the design intent, and potentially increase costs and time to completion if the client requires the stone be replaced.
"It's critical to the success of a project to proactively manage expectations and collaborate on solutions that optimize the stone and meet the requirements of the project," said John Williams, Yellow Mountain StoneWorks co-owner and president. "We look at the extent of the combined variables to drive the process – the richer the variables, the more involved the review points need to be."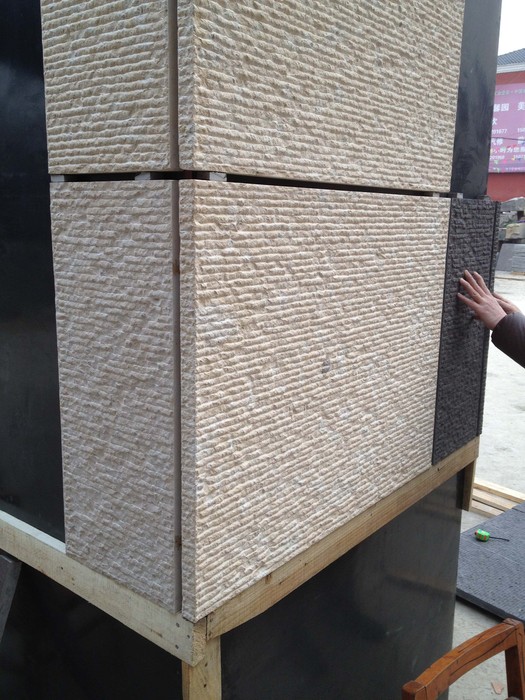 An excellent example of a more involved process is the recently completed Via6. Designed by GGLO and built by Lease Crutcher Lewis, Via6 is currently Seattle's largest retail and residential complex. Covering half a city block, the design intent for Via6 was to communicate the high-end quality of the building by using high-quality materials with a handcrafted, artisan aesthetic. As a result, a granite and three unique limestones in various sizes and utilizing multiple, hand-textured finishes cover the 15- to 19-foot vertical height of the Via6 base.*
Limestones can be complex to define within design parameters, particularly on larger pieces, because of the mutable nature of its organic characteristics. It's important to understand the nature of the stone and then create a set of standards, or a range, that meets the design intent and against which we can fabricate the required pieces. For example, how many fossils are too many, how big is too big; what is the size and visual quality of veining; what is the range of color?  Defining the range too narrowly can result in more waste and higher costs; defining it too broadly can result in an uneven aesthetic.
"Yellow Mountain StoneWorks was incredibly helpful in educating our team about what stone is all about and to appreciate its natural, organic qualities," said Steve Nordlund AIA, the project's lead architect for GGLO. "We went through an extensive review and collaboration process that started with 6- and 12-inch square samples we could mull over in the conference room and ended with a trip to China to see full scale mock-ups."
The initial smaller samples can help designers choose a color and texture palette, but the proof is in the full scale mock-ups Yellow Mountain StoneWorks provides because they most accurately show the range of color and likely occurrence of fossils and veining. As the final approval point, mock-ups also provide a reference point throughout production.
"On all of our projects, half of the mock-up goes to the client for review and approval, and half stays in China with the fabricator as a benchmark," explained Williams. "But because of the scope of the Via6 project and the numerous variables in play, there was no substitute for being at the factory where we could collaborate in real time with our fabrication vendor and the Via6 developer, architect, builder, and stone installer."
"It was important to have everyone there so that we could talk about the design as well as the construction and installation of the stone," concurred Nordlund. "The full scale mock-ups allowed us to set parameters around the color range we wanted to achieve across the Ginseng Cream Limestone, and made clear the amount of veins in the Ink Jade Limestone – which enabled us to dictate where the pieces with more veining were placed in the project."
"The ultimate outcome of the mock-ups is that we come to an assembled whole that looks correct," explained Williams. "By correct, I mean that there isn't any element that's drawing undo attention to itself; the overall effect is a blend. This allows us to be more efficient throughout production by shifting the focus from an in-depth analysis of every piece, to the overall intent of the assembly."
"Yellow Mountain StoneWorks was extremely helpful and knowledgeable," said Nordlund. "Their process allowed the project to be completed as planned."
*For more information about the scope and complexity of the project, go to our Via6 featured project page, "A Contemporary Jewel Box."