An interview with Gary Sexton, the man behind the revival of Bremerton, Washington's waterfront.
At the end of the 20st century, the waterfront city of Bremerton, Washington had suffered 30 years of neglect, blight, and failed attempts at rejuvenation. Home to the Puget Sound Naval Shipyard, Bremerton had a robust population of 80,000 people at the peak of World War II, and hosted Presidents Roosevelt and Truman. But following the war, the city's fortunes began to diminish and by 1978 the Bremerton City Council declared the entire downtown a "blighted area." Despite the city's proximity to Seattle and beautiful natural surroundings, throughout the '80 and '90s the downtown core was composed almost entirely of empty storefronts and the waterfront was little more than a parking lot.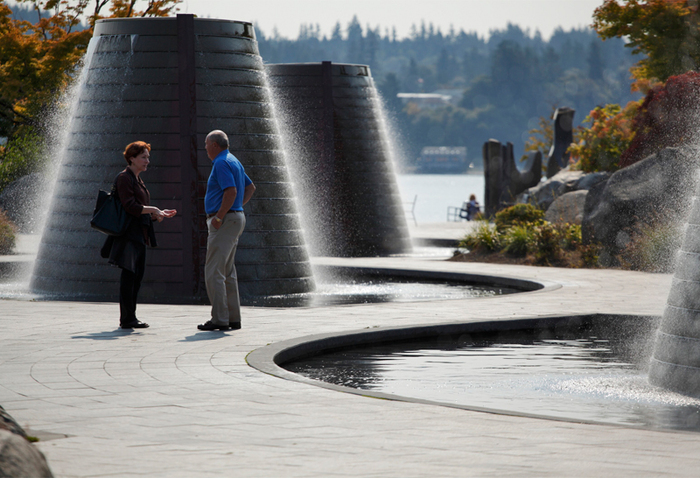 Fortunately, the forces necessary to reinvent Bremerton for the 21st century were coming into position; one of those forces was local attorney and avocational landscape designer Gary Sexton. In 2002, Gary was hired by newly elected mayor Cary Bozeman to oversee the development of a waterfront conference center. Ten years later, Gary was responsible for overseeing the completion of a hotel next to the conference center, the Norm Dicks Government Center, an expanded marina, Waterfront Fountain Park, an underground tunnel for ferry traffic, and above the tunnel, Memorial Plaza: a pedestrian park that borders the main entrance to the shipyard and honors more than a century of its workers. And just this spring, a large stone medallion was installed at a downtown intersection marking the border of Bremerton's revitalized core.
Yellow Mountain StoneWorks had the pleasure being part of Gary's extraordinary team of architects, designers, artists, vendors, engineers and construction workers. We sat down with Gary recently to talk about what it takes to realize a vision of this magnitude.
YM: When Mayor Bozeman originally contacted you about the Kitsap Conference Center project, did you have any idea what it would evolve into?
GS: (laughs) No, I didn't. Just before Cary took office he contacted me and said that there was a project that was about to fail, which was the conference center, and he asked if I would come work on it for six months just to get the design and the financing put together. So, I said I would and that was 10 years ago.
YM: What was your background that made you the man for the job?
GS: You'd have to ask Cary Bozeman, but I think because in my law practice I represented both the public and private sectors and generally speaking, in complex development projects and litigation. And this project would require handling multiple city, county and state agencies as well as private developers. Plus, I was born and raised here; I care about the city.
YM: How did the vision for the waterfront develop?
GS: For everything we've done the foundational criteria was to allow people access to our waterfront, to create a connection between people and our waterfront. We wanted to try to create something where people want to come, to create somewhat of a destination. And we just kept coming up with more ways to do that. We were on a mission.
YM: So was this more for the citizens of Bremerton or an attempt to attract tourists?
GS: I'm not sure that we made that kind of a distinction. It was: make a place that's welcoming and comfortable and happy for whoever might come here. That means make a place where kids want to be, older people, working people, visitors. It used to be that if you lived in Bremerton you didn't want to come downtown or invite your friends and family to come because so many would say, "Why do I want to come to Bremerton?" So our goal was to provide an answer to that question.
YM: Why was it important for you to use natural stone?
GS: It ties to creating a connection for people. When you look at the places where people gravitate, and obviously there are huge variables, but generally there is something that resonates with people emotionally: an aesthetic appeal, heart, and often a sense of lasting peacefulness and longevity. When you look at rock, you know, that's where we came from. With the rock and trees and granite, I wanted to make a public space that can evolve and remain the same at the same time.
YM: You were very hands on with the design elements. What you were looking for in your design team?
GS: I wanted people who truly are creative, but also collaborative, and excited about the project. With publically funded projects there isn't the kind of money there is for private developments, so I needed people who were personally invested in the project, who cared about the outcome.
Wet Design is a great example of this. They'd done phenomenal water fountains all around the world, including the Bellagio in Las Vegas, but always in the middle of a city or in the desert; they'd never done something on the water, water on the water. The owner of Wet Design, who was then one of the lead designers, was fascinated by that idea of being able to tie what he does with water scientifically in with the natural water setting and the natural stone. So even though we couldn't pay what they typically would receive, they took the project under their wing, started doing some things and then collaborated with me and with the stone artist Will Robinson.
YM: It sounds like that the way that you inspire people to do their best work was to create an environment where they could create a personal investment in the outcome.
GS: I think it's fair to say that for each project, I set some guidelines for what the space is supposed to do. As opposed to saying, 'Here's my vision,' I said, 'Here's the space and here's the goal. You use your creativity and your brilliance to achieve that.' I wanted people to feel that they had the opportunity to be creative and bring their expertise, but that they also couldn't just do it themselves. They had to be part of a true team – a team that really cared about the project.
YM: It must have been challenging sometimes, bringing such a diverse group of experts together.
GS: Developing a true collaboration and a melding of those views is sometimes very difficult. You've got to really sit down and hash it out until you come up with the best solution. I've been real fortunate to find phenomenally creative people who are willing to pull down a little and not have to be the sole source of the answer. I think that's the reason the quality is so good – everyone involved, from the designers to the suppliers to the contractors were able to engage and add some of their own creativity and expertise to the process.
YM: What would be your primary advice to city officials who have a vision for a big, public project like a waterfront revitalization?
GS: Probably to think first about creating a place that allows good pedestrian access, more of a village concept where it's a melting pot for people of all the ages. That has to be your fundamental goal and to create the connectivity to the water. Second, you have to, in my mind, create a very high level of autonomy for the project and not approach it as a team or committee. Designate one person who understands the vision for the project and can work with private sector professionals and then trust that person to get the job done.
YM: Did you learn the importance of autonomy the easy or hard way?
GS: The easy way. I've had a tremendous amount of autonomy, which is rare in this kind of public endeavor. I've always had phenomenal teams, just not teams of bureaucrats and administrators. That's one of the reasons this project actually got done in the timeframe it did. Plus, I had tremendous support from key people on the bureaucracy and government side. As Norm Dicks (U.S. Representative for Washington's 6th congressional district since 1977) would say, and Cary Bozeman, they both would basically say, 'I trust him, he tells me what he wants, I go get it and I take the credit.' I was very fortunate to have the powers-that-be want this project to be successful.
YM: What would be your advice to somebody in your position who is responsible for making a project like this happen?
GS: Well first, recognize that's it's a lot of work – you've got to have a passion for it. If you don't believe in what you're doing you're probably not going to do it very well. Second, you need to be connected to whatever you're trying to accomplish. You need to be connected to architects, engineers, artists and to the public, private sectors and funding sources. Once you see that somebody can create access, then you'd better go get to know them. And finally, take the time to put together the right team, to find the right people to get done what you want to get done. Sometimes you have to blow somebody out and kind of start over or find a different resource, but the most important thing is that you want people who truly are creative and that understand your goals and share your vision.
YM: What was the biggest surprise for you in doing this whole project?
GS: Probably the rewards. Hearing people say the waterfront makes them feel good, actually seeing kids playing in the water features. That's certainly great, but coming down here or being in Canada or other places and having people say, 'I was just over there and it's really cool,' and them being able to describe why they like it or a particular thing that they focused on. Or people saying, 'I had my family or I had people up here from California and we would never come into Bremerton. We would always go somewhere else and now we do.' It's a wonderful surprise every time.
Mission accomplished.